An interview with Vancouver's own Fred Nguyen
We are delighted to share an interview with our dancer Fred Nguyen with you from aznmodern.com. Thank you to editor Sonya Davidson for permission.
You can read the full interview here.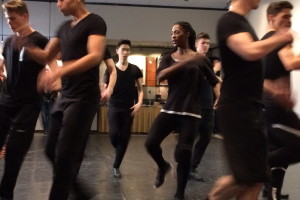 Born in Vancouver, Fred has been dancing since he was nine with the De Danaan School of Irish Dance. Throughout his dancing career he has been crowned eight times western Canadian Champion, two times North American National Champion and placed as high a second at both the World and the All-Ireland Championships.
Fred has performed with his dance school or the Irish Pavilion during the Winter Olympics 2010 in Vancouver. Fred is one of the original cast members on tour with this stunning production. I had a chance to ask him a few questions at a media preview in Toronto this past week…
When did you know that Irish Dancing was your calling?
FN: When I was around 9 years old I watched a few classes at school and eventually joined in. I fell in love with this style of dancing right away.
Did your parents support this passion?
FN: Of course, like most asians, my parents wanted me to become a lawyer or something but they realized that I was really good at Irish Dancing with the competitions I had entered as I got older. Now, they can see I can make a career out of my passion. This is my full-time job so I'm lucky to do what I love and make a career out of it. It's funny to see my parents show videos of my dancing to friends and family.
This show is a little different from the other Riverdance productions, how so?
FN: The basis of the numbers still have that Irish dance component, however this brings other forms of dance into the mix like Latin, Afro-cuban, and street style.
It's your first time in Toronto, what are you hoping to do?
Well, we have Mondays as a break so I really want to see Niagara Falls! I also want to visit the CN Tower.
How will you celebrate the Lunar New Year?
FN: I will be here but I will get in contact with my family for New Year. I miss them.
And what is your comfort food?
FN: Definitely Pho! I need to have my pho every weekend!
Interview with @heartbeatofhome 's dancer FRED NGUYEN via @TheCulturePearl http://t.co/lmTCXZoZ0V

— AZNModern (@aznmodern) January 19, 2014