Review: True physical mastery in "Heartbeat of Home"
Forget the Olympics, true physical mastery in @HeartbeatofHome http://t.co/cO3X9nT3Y0

— RincePop! (@RincePop) January 28, 2014
Irish Central have written a review of the show, featuring interviews with Assistant Director Padraic Moyles, Choreographer John Carey and Dancer Jason O'Neill. Thank you so much to SJ Valesquez for reviewing!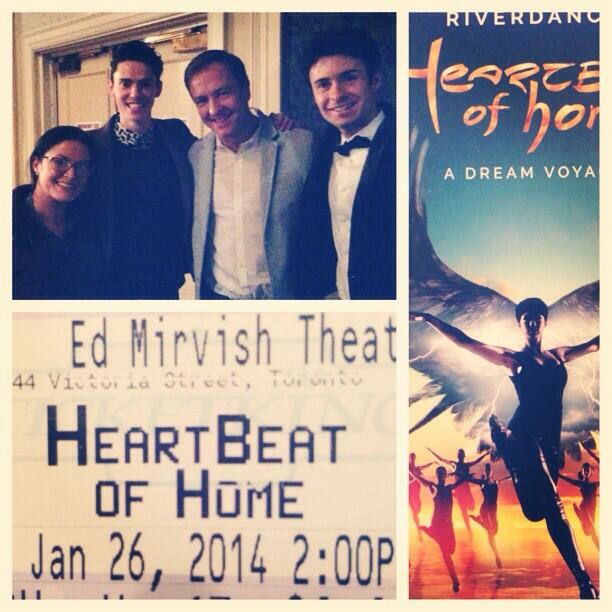 You can read the full review here – we've republished extracts here:
While a good number of the world's strongest, most agile athletes are preparing for the Olympic Games in Russia, there are a dozen or so others on the "Heartbeat of Home" stage, located at the Ed Mirvish Theatre in Toronto until March 2, at the beginning of its North America tour.

From start to finish, the cast of Irish, Latin, Flamenco and Afro-Cuban dancers leapt, spun and feverishly tapped across the stage, defying gravity, astounding the eyes and ears of awestruck show-goers – all without appearing to drip a drop of sweat. That kind of seemingly effortless physical ability doesn't come easy.

"These guys are pro athletes," "Heartbeat's" assistant director Padraic Moyles said in a post-performance interview, adding that each dancer must exude discipline and enthusiasm to achieve the desired effect in rehearsals and on stage.

"You have to be a machine," admitted featured dancer Jason O'Neill, who was unable to perform in Sunday's official premiere due to an ankle injury suffered earlier in the week.

Machine. There's no other way to describe the kind of perfection that graced the Mirvish Theatre stage.

Each number in "Heartbeat" harnessed a level of power and finesse that's simply mind-boggling. Even the standard dance moves – for Irish dancers, think of a leap or jump-over – looked as though they were being performed by super-human beings.

The rippling muscles of the Afro-Cuban dancers, in particular, were impossible to ignore, especially when they were flinging their bodies into the air with such style and ease. And the flamenco dancers didn't so much tap their feet as vibrate their feet with meticulous percussive precision.

The show's dancers aren't merely above-average. They are world-class, of the highest caliber.

Another refreshing twist that separates "Heartbeat" from other Irish dance-based stage shows is the humor, playfulness and improvisation. A surprising standout performer was Vancouver-born Irish dancer Fred Nguyen, whose aloof stage persona and raw dance talent had audience members laughing one minute and picking up their jaws from the floors the next.

"Irish dancers can do much more than Irish dance," Moyles said.

Anyone who has the pleasure of catching "Heartbeat" live will see firsthand how thrilling and powerful dance can be, especially when it's choreographed and performed by the best creative minds and athletes in the world.
Read more: http://www.irishcentral.com/news/entertainment/Forget-the-Olympics-true-physical-mastery-in-Heartbeat-of-Home-VIDEOS.html#ixzz2rjIqdsB3