Reviews from the audience – what you've been telling us on Ticketmaster
We've been reading the audience reviews on Ticketmaster.ie – 57 at time of writing this – and we'd like to share some of them with you.
In fact, of the 57 reviews, 41 were 5 Star, 14 were 4 Star and only 2 were 3 Star reviews, which we're very proud of.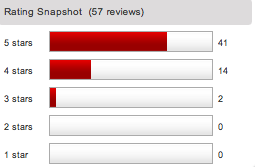 You can read all Ticketmaster reviews here. We've left all spellings as the writers published them:
Posted 08/10/2013 by ChristineOD
Brilliant show, singers, muscians and scenary was excellent. absolutely loved it!! Dancing was amazing.. Well Done ! Feeling very proud to be Irish after seeing this !
Posted 07/10/2013 by Ednamo
Great atmosphere in the Theater. The dancers were just magnificent. The Orchestra being part of the show as against only being background music was a great idea.
The show was over in no time, we enjoyed it so much.
We have recommended the show to everybody we have meet since. I think You will have to run it longer in Ireland.
Posted 08/10/2013 by Musichero
It was an amazing show. It took me on a journey, I felt very emotional at times, I laughed out loud, I cried, the music was brought to life by the wonderful musicians, their interaction with the audience was wonderful. The singer would melt any heart and the dancers brought me all around the world and back, we have a wonderful culture of music and dance and to see how it knits with other cultures just goes to show that more unites us than pides us. Excellent show. Bravo to all concerned
Posted 07/10/2013 by MgtB
I brought two Dainish friends to the event and they were absolutely blown away with the show. I was so so proud to be Irish.
Favourite moment: The whole show was just magical and uplifiting.
Posted 06/10/2013 by Ronnie54
Excellent show. The girl dancers were like feathers flowing in the air, they were so light on their feel. The costumes were perfect for each scene. All dancers, men and women were fantastic and it was a so special to see the show in it's opening week. The backdrop, lights and and scene's were the best I had ever seen. I felt that I would fall over in to the Grand Canyon.
Congratulations to all those people involved in the show.
Posted 06/10/2013 by wisp
Irish dancing brought to a new level-edgy, modern, sexy, vibrant. Lucia Evans is a revelation her voice so mellow, almost ethereal. I just want to go again!
Posted 05/10/2013 by Thequeen
I went to see heartbeat from home ( I am in a minority not having seen river dance show) . I thought it was fantastic show Gray dancing dining & musicians . I would live to go see it again would highly recommend it . It was spectacular
Posted 03/10/2013 by Nitpicker
Excellent show. Lots of inter-cultural vibrancy. Beautiful Lyrics sung with Passion, clarity and emotion. Back projections were awesome
Posted 03/10/2013 by Carol
From the very first tap of feet this show just took off. I felt like jumping up and giving an ovation after every scene. Vibrant exchange of dance between different cultures. Musicians world class and so lively, loved that they were part of the show. Fantastic new music, felt yourself soaring with the female singer. She was great, an all rounder, singing and dancing and playing an instrument. Show was so good that I returned a few days later with another friend who was also hooked on this show. Congrats to all definitely a show not to be missed.
Posted 02/10/2013 by Eemies
Different enough from Riverdance not to compare. What came across was that the dancers had a brilliant rapport amongst each other and were really enjoying themselves. Highly recommended, tho' would advise buy and read the centre of the programme to get the storyline. Well done and congratulations to everyone!
Posted 02/10/2013 by Sylvia1
If you are a fan of Riverdance you will love this show. The dancing was amazing. The music was so creative. The band were really getting into it and they were up dancing too. The visual effects on the screen in the background were enthralling. The fusion of the different styles of dance and music were super. Would definitely go again.
Posted 01/10/2013 by Dolphin1
Heartbeat of Home was an exhilarating experience – I brought my two girls aged 9 & 11 and they totally engaged throughout – as was I. The show received a standing ovation as did the musicians! Lucia Evans has an amazingly natural voice and fuses really well with the show. I wish them best of luck on their world tour!
Posted 01/10/2013 by alimai
Heartbeat of home.
This was a superb exhibition of skill, athleticism, and art
Beautifully blended into a 21 century modern dancing and musical superbness.
My 14 yeR old daughter, who dosent do Irish dancing,said afterwards she will ' make' her children do dancing. That's impressive coming from the sane lady.
Point of marketing, the title is too long. You should just call it heartbeat.
But fantastic truly.
From a wannabe dancer/ musician.:-)
Posted 01/10/2013 by Smax
What a fantastic show in every way. The fusion of cultures and dance styles was flawless and fascinating. The flamenco was incredible and to see it merge with Irish dancing was amazing. Loved the street dancing – well just loved it all actually and will have to go again.
Posted 01/10/2013 by Bentham
This show is a dance extravaganza which will warm the hearts of many .
It will keep your toes tapping from start to finish.
With great special effects which enhanced the show.
If I were to add a negative I might say that the storyline was weak and the second act was not as good as the first.
Having said this it STILL gets 4 STARS from me
Bentham.
Posted 01/10/2013 by JSforpresident
I expected brilliant dancing, which we got in spades! But the power of the music and musicians matched that of the dancers and was an unexpected side to the show. Brilliant, powerful and passionate throughout, with the odd bit of humour thrown in. Thoroughly recommended to all ages. There were lots of children in the audience and there was not a sound from any of them throughout, all engrossed
Posted 30/09/2013 by twistar
The show from start to finish was amazing. The timing and movement was first class and you couldn't take your eyes of the stage. The music and singing really complimented the dancing and it really worked well together.
Posted 30/09/2013 by Carol28
Went to see heartbeat of home in dublin on its opening night. All i can say is go and see the show it was so amazing. The talent of the dancers was something else, some of them very young. The band and the singer were superb. It is the next riverdance only with a much more modern twist with latin american, cuban street all in there too. Hopefull the tour to asia etc will go well and it will come back to ireland and i can go again
Posted 30/09/2013 by pidgeon
This was an amazing show. I really enjoyed the mix of music/cultural genre which flowed and twined so well together. There was nobody sitting in their seats at the end of the show, everyone was on their feet. I also loved how the musicians were blended into the show and not 'hidden away' in a pit. Heartbeat of Home hit all the senses.