Reviews from the audience – what you've been telling us on Facebook
We've been hearing from our audience on Facebook and here's what they've been telling us – you can see what's people have been saying on Facebook here.
You can also watch video reaction from our audiences during our previews here and here.
From Janet Fitzpatrick: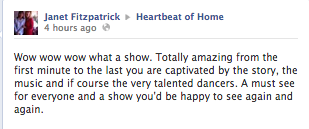 "Wow wow wow what a show. Totally amazing from the first minute to the last you are captivated by the story, the music and if course the very talented dancers. A must see for everyone and a show you'd be happy to see again and again."
From Belinda Daly:

"What an amazing show, everyone should be so proud, I am so privileged to have been one of the first to see it.  What a talented cast, everybody was on their feet, just brilliant."
From Kelly-Marie Donegan

"Brilliant evening at the Bord Gais Energy Theatre for the Launch of Heartbeat of Home !! Highly recommend it , Amazing Music dancing powerful and Stunning Check it out"
From Declan Costello

"Congratulations on a fantastic show, everybody from dancers, musicians, singers, set design and lighting were faultless . I hope you have a brilliant tour of China and North America you deserve it."
From Adrian Taheny: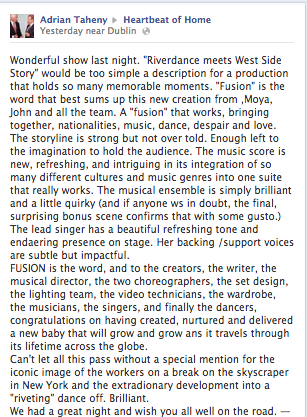 "Wonderful show last night. "Riverdance meets West Side Story" would be too simple a description for a production that holds so many memorable moments. "Fusion" is the word that best sums up this new creation from ,Moya, John and all the team. A "fusion" that works, bringing together, nationalities, music, dance, despair and love. The storyline is strong but not over told. Enough left to the imagination to hold the audience. The music score is new, refreshing, and intriguing in its integration of so many different cultures and music genres into one suite that really works. The musical ensemble is simply brilliant and a little quirky (and if anyone ws in doubt, the final, surprising bonus scene confirms that with some gusto.)
The lead singer has a beautiful refreshing tone and endaering presence on stage. Her backing /support voices are subtle but impactful.
FUSION is the word, and to the creators, the writer, the musical director, the two choreographers, the set design, the lighting team, the video technicians, the wardrobe, the musicians, the singers, and finally the dancers, congratulations on having created, nurtured and delivered a new baby that will grow and grow ans it travels through its lifetime across the globe.
Can't let all this pass without a special mention for the iconic image of the workers on a break on the skyscraper in New York and the extradionary development into a "riveting" dance off. Brilliant.
We had a great night and wish you all well on the road."
From Yvonne O'Neill: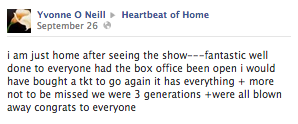 "i am just home after seeing the show—fantastic well done to everyone had the box office been open i would have bought a tkt to go again it has everything + more not to be missed we were 3 generations +were all blown away congrats to everyone"
From Linda Travers:

"Just home from seeing the show well done to everyone involved….amazing show…absolutely brilliant"
From Katie Murray:

"Seen the show last night… fantastic and different!! Highly recommend it… we came away two happy people… well done 2 all u guys"
From Jane Carson:

"What an amazing show, fantastic choreography, staging and music, a really uplifting treat!"
From Karen Eppel:

"Absolutely amazing show! Fantastic experience! Wishing you all the very best with the forthcoming tour."
From Mary McCall:

"Saw this fantastic show yesterday. The music, the dancing, the special effects were brilliant. Lucia Evans was out of this world."
From Barry Jay Hughes: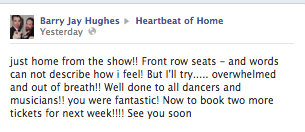 "just home from the show!! Front row seats – and words can not describe how i feel! But I'll try….. overwhelmed and out of breath!! Well done to all dancers and musicians!! you were fantastic! Now to book two more tickets for next week!!!! See you soon"
From Aisling O Toole:
"Amazing Show , will be telling everyone to go see it ! Every Dance was so unique and different . Best of luck with your Tour ."
From Win Our Wedding:

"Went to see the show last night – absolutely brilliant, loved every minute of it x"