Read: The Irish Examiner meet the creative team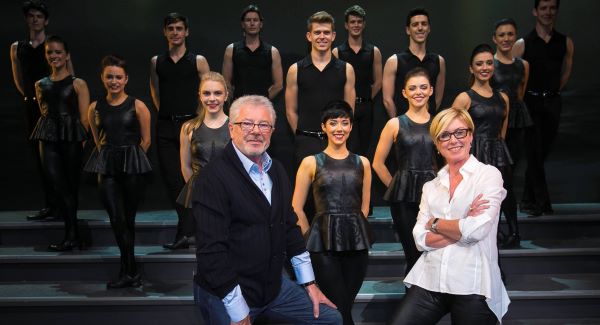 The Irish Examiner featured an interview with John McColgan and Moya Doherty today entitled "Dream voyage with fiddle tunes and flamenco dance" which you can read in full online here.
Heartbeat of Home: A Dream Voyage, which receives its world premiere at the Bord Gais Theatre this coming Wed, is a multi-ethnic music and dance spectacular featuring not only traditional Irish, but also Latin and Afro-Cuban music and dance.
It fields an international cast of 39, including a ten-piece band and music written by award-winning, Golden-Globe-nominated composer Brian Byrne. It will run in Dublin for just 21 performances and then tour China, Canada, and the US.
Will it make history? Will it topple the unassailable, take over from Riverdance? Only time and the public will decide that. What we do know is that McColgan and Doherty are very excited about it.
Heartbeat of Home, which grew out of those discussions, is already booked across the globe, says Moya Doherty. It has, she explains, been specifically built for touring rather than as a fixed, Broadway style show. Perhaps it is no accident that it is premiering in the Year of the Gathering, when those in far off places think of home and celebrate what was special about their culture.
Is it more of the same? Or is it different? Well, judging from the clips, Heartbeat is certainly newer, more modern, tighter, sexier, very much in tune with today.
It's a modern, outwards-looking Ireland. Riverdance started something, this takes up where that ended. This is Ireland now. We are at a point when we can celebrate our commonality as much as our unique differences." Internationally renowned David Bolger, co-founder of CoisCeim, is in charge of choreography and musical staging.
What does Heartbeat of Home say to him? "It's quite a lyrical piece really, blending Irish, contemporary, ballet, flamenco, Cuban, street dance – the connecting thing is people making voyages and how cultures can learn from one another. Riverdance started that journey, but now we're going further and doing more – mixing the rhythms together."
Bolger works closely with John Carey who handles the Irish dance choreography on Heartbeat of Home. "The great thing has been seeing how they have worked together," says John McColgan, "each understanding where the other is headed, and pooling their knowledge and experience."
Even choosing the performers was innovative, utilising the latest technology to source talent across the world. "It was really exciting, auditioning online," says Bolger. "Some of our great Irish dancers are living in the States or Russia or Australia."
A lot of rehearsal time has gone into training the dancers to use their bodies in different ways, reveals the choreographer.
"But they're all willing to experiment, to go where they haven't been before. It's been totally exciting working with all these new ingredients, melding so many different genres. I look forward to coming to work every day." There have been a lot of sleepless nights too, he confesses, "but it's always an adventure, working with dancers individually about what the show means to them and what they can bring to it. They're all stars, it's about giving each a moment to connect completely with the audience."