Read: Gianna and Natasia Petracic interviewed in the Sunday Independent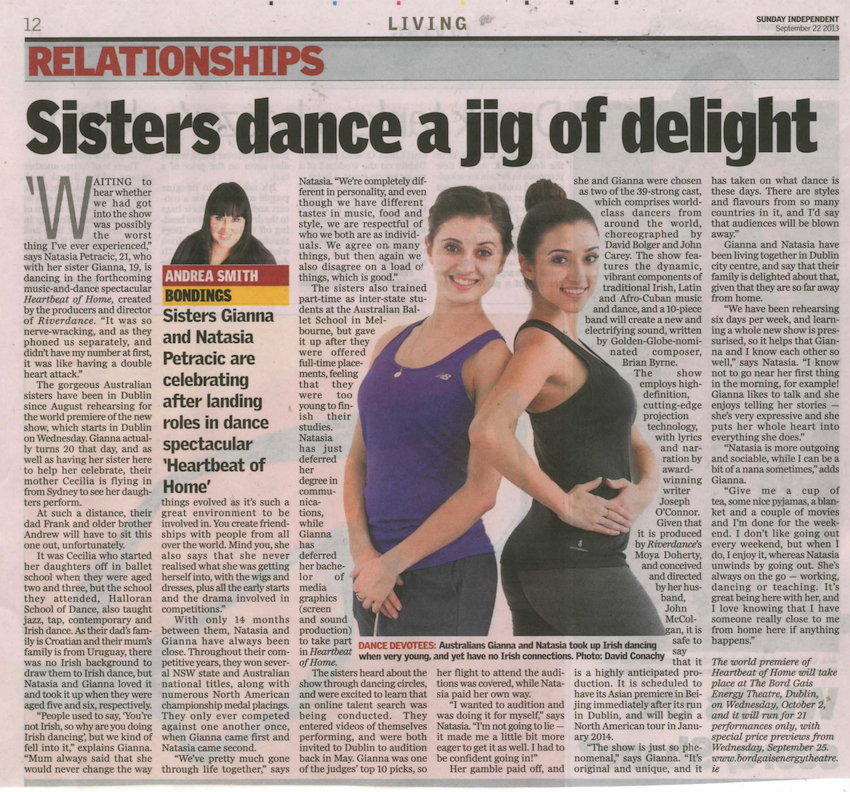 An interview by Andrea Smith with sisters Gianna and Natasia Petracic featured in today's Sunday Independent – you can read the article online here, with extracts below:
'WAITING to hear whether we had got into the show was possibly the worst thing I've ever experienced," says Natasia Petracic, 21, who with her sister Gianna, 19, is dancing in the forthcoming music-and-dance spectacular Heartbeat of Home, created by the producers and director of Riverdance. "It was so nerve-wracking, and as they phoned us separately, and didn't have my number at first, it was like having a double heart attack."

The gorgeous Australian sisters have been in Dublin since August rehearsing for the world premiere of the new show, which starts in Dublin on Wednesday. Gianna actually turns 20 that day, and as well as having her sister here to help her celebrate, their mother Cecilia is flying in from Sydney to see her daughters perform.

At such a distance, their dad Frank and older brother Andrew will have to sit this one out, unfortunately.

It was Cecilia who started her daughters off in ballet school when they were aged two and three, but the school they attended, Halloran School of Dance, also taught jazz, tap, contemporary and Irish dance. As their dad's family is Croatian and their mum's family is from Uruguay, there was no Irish background to draw them to Irish dance, but Natasia and Gianna loved it and took it up when they were aged five and six, respectively.

"People used to say, 'You're not Irish, so why are you doing Irish dancing', but we kind of fell into it," explains Gianna. "Mum always said that she would never change the way things evolved as it's such a great environment to be involved in. You create friendships with people from all over the world. Mind you, she also says that she never realised what she was getting herself into, with the wigs and dresses, plus all the early starts and the drama involved in competitions."

With only 14 months between them, Natasia and Gianna have always been close. Throughout their competitive years, they won several NSW state and Australian national titles, along with numerous North American championship medal placings. They only ever competed against one another once, when Gianna came first and Natasia came second.

"We've pretty much gone through life together," says Natasia. "We're completely different in personality, and even though we have different tastes in music, food and style, we are respectful of who we both are as individuals. We agree on many things, but then again we also disagree on a load of things, which is good."

The sisters also trained part-time as inter-state students at the Australian Ballet School in Melbourne, but gave it up after they were offered full-time placements, feeling that they were too young to finish their studies. Natasia has just deferred her degree in communications, while Gianna has deferred her bachelor of media graphics (screen and sound production) to take part in Heartbeat of Home.

The sisters heard about the show through dancing circles, and were excited to learn that an online talent search was being conducted. They entered videos of themselves performing, and were both invited to Dublin to audition back in May. Gianna was one of the judges' top 10 picks, so her flight to attend the auditions was covered, while Natasia paid her own way.

"I wanted to audition and was doing it for myself," says Natasia. "I'm not going to lie – it made me a little bit more eager to get it as well. I had to be confident going in!"

Her gamble paid off, and she and Gianna were chosen as two of the 39-strong cast, which comprises world-class dancers from around the world, choreographed by David Bolger and John Carey.

"The show is just so phenomenal," says Gianna. "It's original and unique, and it has taken on what dance is these days. There are styles and flavours from so many countries in it, and I'd say that audiences will be blown away."

Gianna and Natasia have been living together in Dublin city centre, and say that their family is delighted about that, given that they are so far away from home.

"We have been rehearsing six days per week, and learning a whole new show is pressurised, so it helps that Gianna and I know each other so well," says Natasia. "I know not to go near her first thing in the morning, for example! Gianna likes to talk and she enjoys telling her stories – she's very expressive and she puts her whole heart into everything she does."

"Natasia is more outgoing and sociable, while I can be a bit of a nana sometimes," adds Gianna.

"Give me a cup of tea, some nice pyjamas, a blanket and a couple of movies and I'm done for the weekend. I don't like going out every weekend, but when I do, I enjoy it, whereas Natasia unwinds by going out. She's always on the go – working, dancing or teaching. It's great being here with her, and I love knowing that I have someone really close to me from home here if anything happens."
You can read the full interview online here.