Olivia Griffin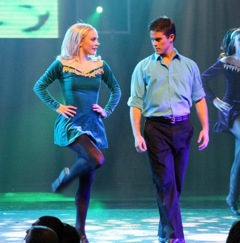 I have been Irish dancing since the age of seven first with the Boyle School of Irish Dance under the instruction of Noreen Heavey.
At the age of fifteen the school was closed and I began dancing with Butler Fearon O'Connor under the instruction of Vinny O'Connor and Rose Fearon.
While I was working my way up in international competitions, Caroline Gray was always an inspiration to me. She has such lovely elevation and style.
My biggest achievement so far has been winning the All-Irelands, Worlds, North American Nationals, and Western Regional Oireachtas all in one year.
I expect the auditions to be very structured. I know a lot is expected of me and I will do my best to be both mentally and physically prepare.
Out of the top twenty, I wa s most impressed with Tyler Schwartz's video. He is such a stunning soft shoe dancer and has strong lines.
~Olivia